I can't tell you how long it's been since I've watched a Grammy Awards show all the way through. Normally I'm bored out of my mind and  pissed because they are showcasing lame acts and are so out of touch with reality.
But this year's was AWESOME.
Let's start with the fact that Justin Timberlake is back in a Big. Bad. Way. His new music? Dope. His retro vibe? Pimp. His new look? DAY-UM.
This one's for all the ladies…
Next treat for a super-ridiculous fan girl like me? The coolest, most beautifully delicious man on Earth AND my birthday twin Johnny Depp was a presenter. Was. Not. Expecting. That.
Also, this happened at some point before the show. Johnny Depp, Dave Grohl at a table together? Uh, please put me sitting there. It's on my bucket list to have a beer with both of those guys.
The performances (outside of lil Tay-Tay Swift's hot mess) were all on point. Great collaborations between artists and beautiful tributes. I really enjoyed all of them. My favorites being, Justin Timberlake, Mumford and Sons, The Lumineers and the LL Cool J/Chuck D/Tom Morrell/Travis Barker/DJ Z-Trip finale.
I'd also never heard of Manuel, but he was AWESOME. I'll be checking out his stuff.
I loved that Chris Brown got ZIP and Frank Ocean got all the love.
*Soapbox Rant*
Seriously, Chris Brown can go eat a bag of dicks. I don't care how awesome his music is, we should not be celebrating someone who so clearly has rage issues and zero respect for humanity. Every time I see him making an appearance, smiling like he's such a great guy it makes want to punch my tv. And I love my tv, y'all. 
And Rihanna? I don't even know where to start. Learn to love yourself. That's all I can say about that.
*End Soapbox Rant*
I love the fact that Adele and Kelly Clarkson both won awards tonight. Two beautiful, curvaceous ladies with huge voices and talent seeping out of every pore. They  seem like genuinely good people who were just over the moon about winning. That's the ladies I want for role models.
Carrie Underwood? Gorgeous, amazing voice and fabulous performance.
Alicia Keyes? Perfection as always.
Bruno Mars? I want to get down so hard every time I hear "Locked Out of Heaven". Great performance tonight.
Mumford, Elton John, Jack White, Black Keyes, The Lumineers… I'm sure I'm missing some, but damn. It was really all amazing.
The only thing missing for me was Pink. Every time she performs she just blows me away.
Hot looking ladies of the night?
JLo put Angelina to shame with her "Ode to Leg":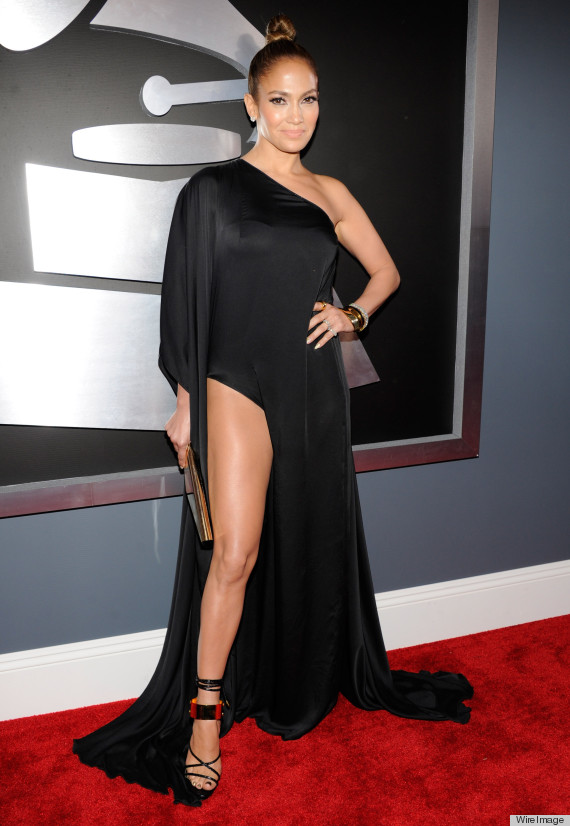 Rihanna looked amazing, even if you could see her nips through that dress:
Carrie Underwood's black lace was FAB as was her "thousand points of light" dress:
Ellen really loved Katy Perry's dress.
It grew on me as the night went on. It was daring because her boobs were, like, KABLAM! but the dress was actually very understated and simple and really showed off her flat tummy:
Adele's dress really looked like someone's grandmomma's kitchen curtains, but she somehow pulled it off. Honestly, no one but her could do this. She's so awesome.
Kelly Clarkson looks great, too. I love the simple black dress with the sheer top.
I know there were winners tonight, too, but I really don't care. Everyone who won something deserved it.
It was a night that celebrated great artists and beautiful music for the first time in a long time.
And just because he's my deliciously handsome birthday twin, I will leave you with more Johnny Depp.
by Ali